I'm happy to report that I've finished mixing 'Songs From Apartment 4' the latest album from  Kari Newhouse! The title of the record tells it like it is: these songs were conceived and recorded by Kari in her home studio while she lived in a small apartment here in Portland. Her home studio is modest but effective – centered around Protools 8 hosted on her Mac and using an Mbox audio interface. Simple, yet powerful.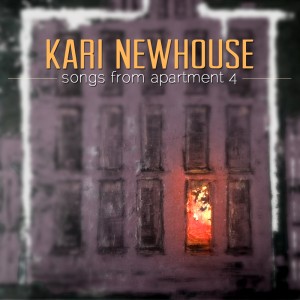 These 11 songs showcase Kari's sublime voice and acoustic guitar talents. The core of the tunes are based around multi-layered acoustic guitars supporting her vocal melodies and haunting harmonies. From there, she adds textures and soundscapes that transport the songs from the singer-songwriter/folk genre into her own unique territory.   Kari played most of the instruments on the album, including acoustic and electric guitars, lap steel, bass, piano and keyboards, drum sequences and rhythmic loops. She enlisted the help of  Portland drummer, Rob Milne on one track that needed a tight, 70's sound and feel, and we added a few real cymbal and percussion elements  to make the looped drums sound more authentic. When it was all finished, I was impressed with the diversity of the sounds and styles – this definitely doesn't sound like an album that was tracked in an apartment!
     For some of the songs, Kari used Protools templates to quickly and easily record her ideas as demos. After she had the basic idea down, she then overdubbed and polished the songs from the demo stage to final mix-ready productions. This saved her a lot of studio time and re-recording – it's a very efficient and convenient way to record without the stress of working in a professional studio. Less stress – less money – more flexibility.
     Once she had decided that the recording process was done, she sent me the songs as protools files and audio data on a couple of DVD's and my part of the project began: producing the final mixes. I use Protools 9 and 10, and was able to open the version 8 files with no problems. I used much of Kari's initial mix (which was pretty good!) and plug-ins (compression, EQ, effects) as a starting point and refined some of the equalization to make the instruments sit a little better in the mix. I had the benefit of better monitor speakers, which helped locate problem areas which can be overlooked on smaller, cheaper near-field monitors. I created a soundspace for all the instruments and voices to occupy – left to right, and front to back – that helped produce a little more 'depth' to the final mixes. But the performances and the songs themselves sounded good from the very start, so really my mixing was just the icing on the cake.
      Kari recorded her Martin JC-40, Martin backpaker, and her voice mainly with her Audio-Technica 4033A large diaphragm condenser microphone right into the Mbox preamps. She sometimes used a Shure SM57 dynamic mic as well. These two inexpensive, yet good quality mics were all she needed to record her voice and instruments into her DAW (Digital Audio Workstation-Protools 8 in this case). She also enjoyed using her Kontakt Sampler, IZotope Alloy, BFD2 drums, Alesis QS6 keyboard, and judicious use of Protools De-Esser and Delays to create her sounds for this album. In addition, I added some textures using Reason 6, using the rewire function to slave the program to Protools. I also used Waves compressors, EQ's, delays, verbs and the L1 mastering compression to the final mix.
       Here is an example of the final version of one of the songs: Perpetual-edit-Kari_Newhouse.
     She is preparing the album for digital download now and I will provide links to where you can download the album shortly, until then visit her website http://www.karinewhouse.com/ and find out more about Kari.
UPDATE! The music is available NOW:
CD BABY: http://www.cdbaby.com/cd/karinewhouse
ITUNES: http://itunes.apple.com/us/album/songs-from-apartment-4/id544937409